Layout Help
Most studios have these things in common: they're the cheapest way to live alone, they are limited in square footage, and you can't avoid having your bed exposed. For many smart investors, the choice to buy a studio over a one-bedroom in the DC-Metro area comes with serious savings: about $100,000 worth. That's right – a door separating your sleeping area from the rest of the living space costs $100,000 more.

For many, though, having one's very personal sleeping space exposed is the biggest turn-off when considering the purchase of a studio. That's understandable – do you want your friends checking out your comforter and pillow choices when they're seated at your table for dinner? Fortunately, I've seen a lot of studios that make it work really well – so well, in fact, that I've stolen some layout ideas for my own studio rentals.

I've catalogued the layouts for the most popular floor plans here, so stop stressing about where you're going to put everything, and start moving your furniture today!

Before we get to the layouts, consider these three indispensable rules to properly stage your studio regardless of the floor plan.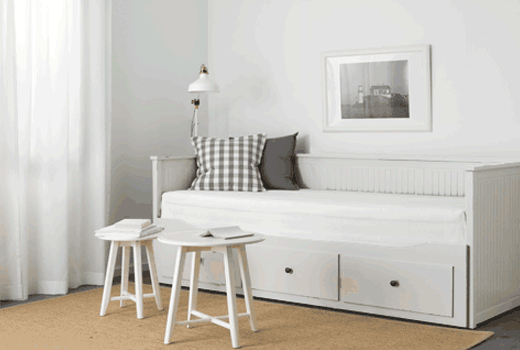 1. Make your bed a daybed. By disguising your bed as a sofa during the day, it no longer screams "I SLEEP HERE!" but instead subtly offers extra seating. How can you achieve this look? Visit my Décor Tips page for inexpensive solutions to create the perfect daybed. Image courtesy of IKEA.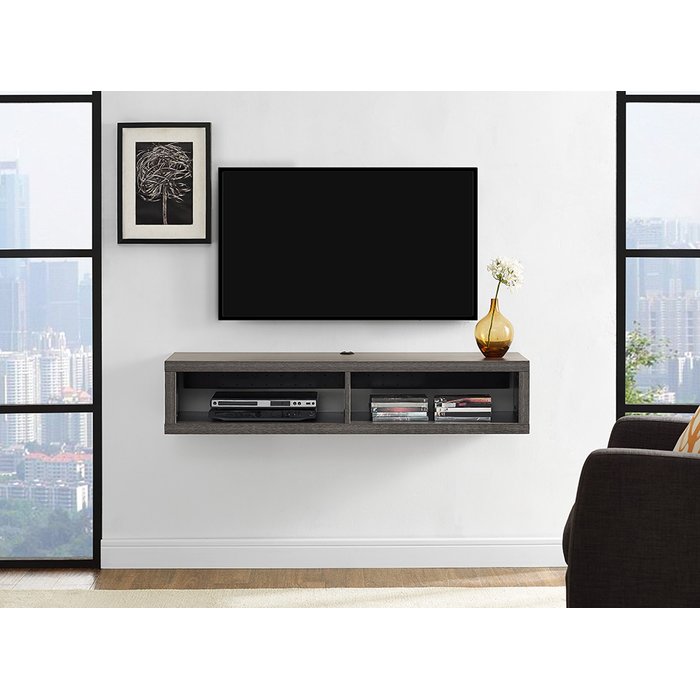 2. Mount your television. Even if you have cords attached to it, mounting your television will give the illusion of more vertical space (and less clutter). You can hide those ugly cords with covers and still store a bunch of stuff underneath the TV, if necessary. Mounting your TV will also allow you to change the direction and angle of the screen, so you can watch whatever's on wherever you are in the studio. Image courtesy of Wayfair.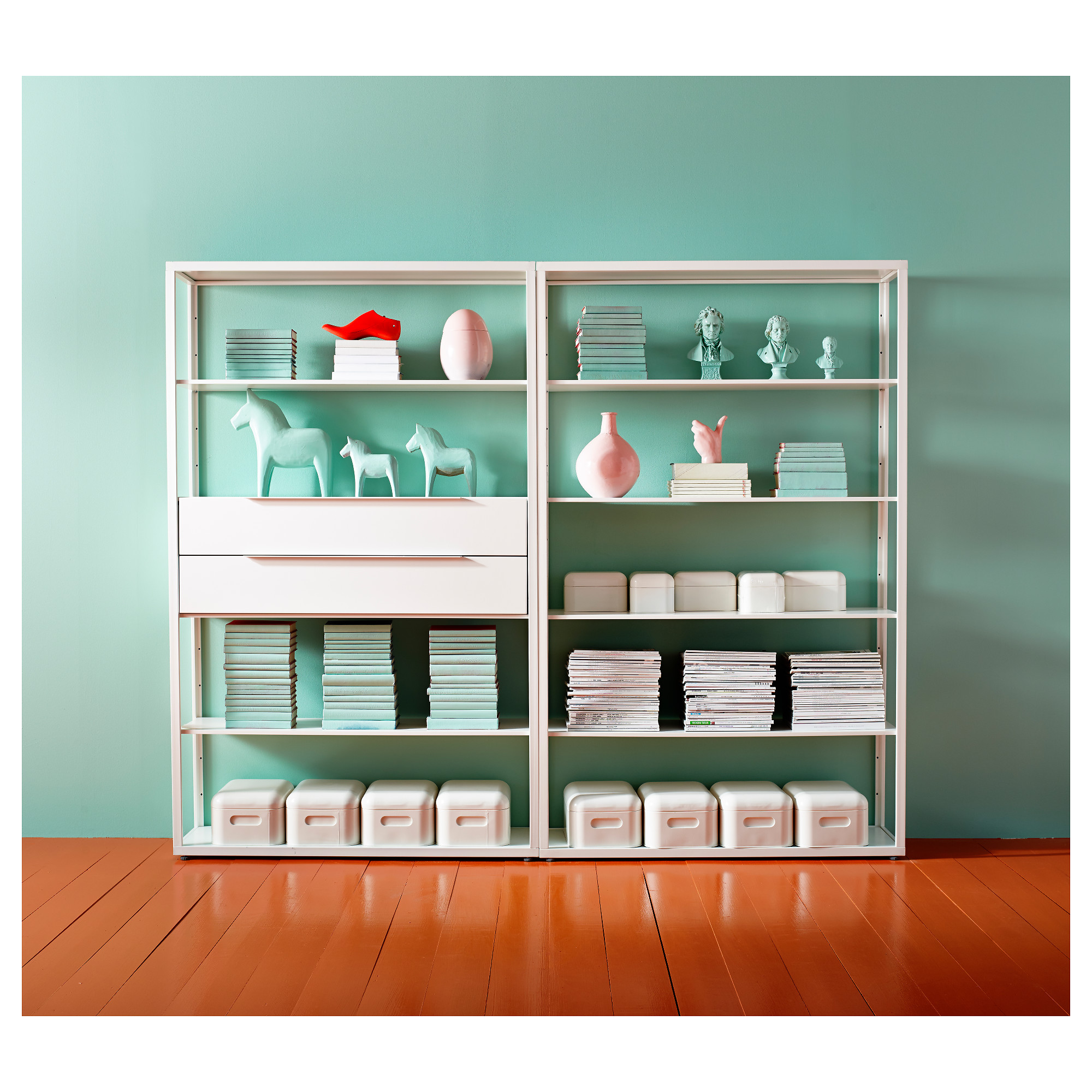 3. Do not block the light. You're going to be tempted to use curtains or room dividers to define your spaces, but don't do it at the expense of natural light. There are a couple room dividers on my Furnishing page that won't make your studio feel like a cave. Image courtesy of IKEA.
The Rectangle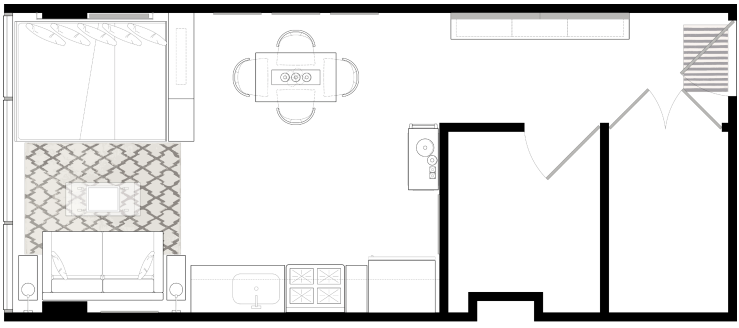 Ahhh, the Rectangle: the most unforgiving layout in the studio canon. A common dilemma with the Rectangle layout is: does my bed share the same side as the kitchen, or will I have to see my kitchen from bed? The best results I've seen will always have the bed on the opposite side of the kitchen area; it's just unnatural to sleep where you cook.

Now that that problem is solved, just incorporate the furniture that accompanies the kitchen: your dining table and chairs. Even if your kitchen is physically separated from the studio, have your dining table and chairs closer, rather than further, from the kitchen.

Tip: Accept the fact that your dining area must be your main socializing space. There is seating, you can serve meals and drinks, and you can accommodate up to four people comfortably with less space than in a living room. For this reason, it is most important to have your bed hidden from the dining area more than any other part of the studio. This can be realized by using a room divider to block off your dining area from your bed. If you decorate the divider properly, it's next to impossible to even see the bed from the table.

However, if it's really important that you have seating to watch TV, you can save a ton of space by mounting the television over your bed (acting as a daybed, of course), and pull the chairs from the dining area across from the bed, or if you have space, just keep a couch there. No one's going to feel weird watching TV if it's just over another piece of living room furniture (i.e., a sofa). Complete the illusion of a "living room" with a small coffee table, et voilà – living, dining, and sleeping space in one Rectangle.

Rectangle Inspiration: McPherson Square studio
443 square feet
Designed by Residents Understood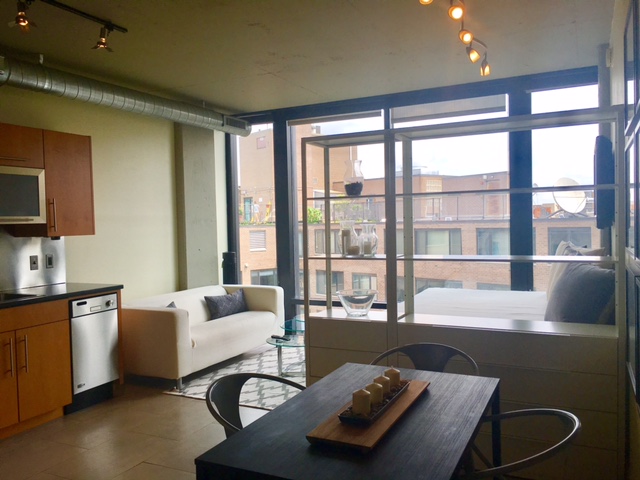 The entryway leads to common/socializing space, so there's no awkward walk-through or exposure of your sleep area.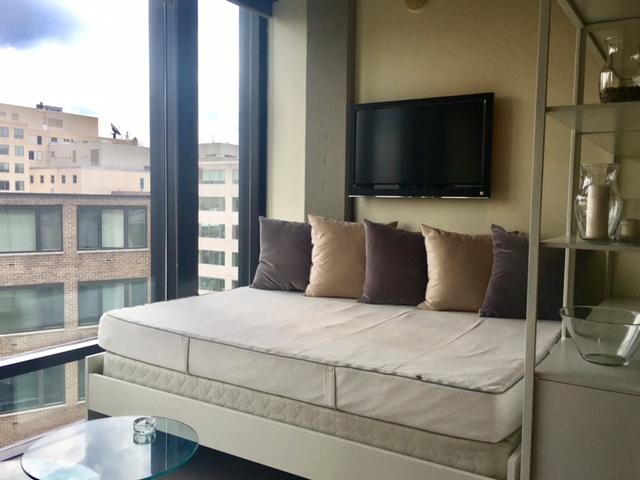 Even a Queen-size bed can mimic a daybed with appropriately-positioned pillows against the wall. The floating TV maximizes space and reduces clutter.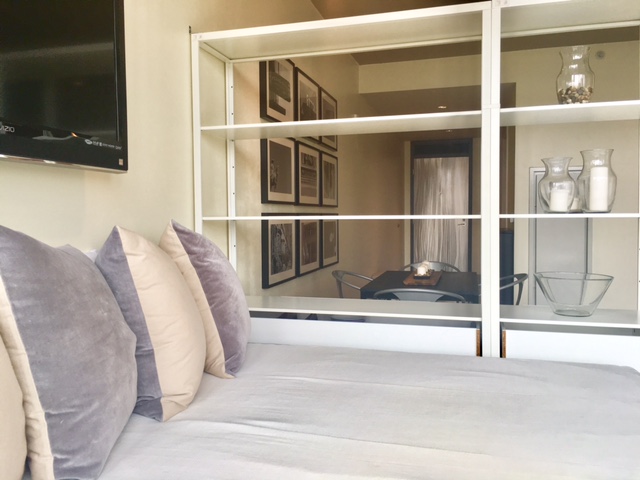 You can creatively decorate your shelves to hide the daybed pillows from the dining area.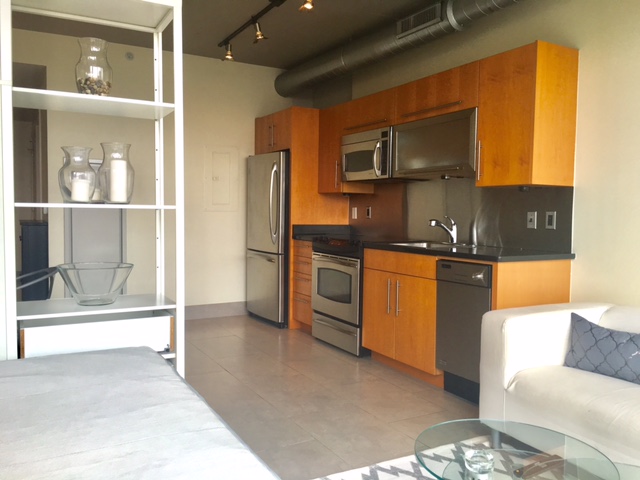 The Rectangle reality: it may be impossible to completely hide the kitchen from your bed. However, if your morning coffee is the only thing that gets you out of bed, perhaps this isn't so bad…

Odd Shapes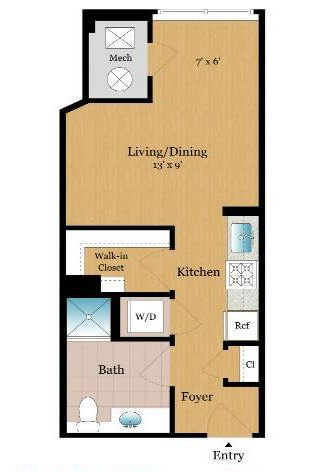 An "odd shape" can be anything from awkward quadrilaterals to spaces with alcoves that make you wonder, "what was the developer thinking?" If you're living in an odd-shaped studio, it's especially important to implement the three indispensable rules noted in the introduction, and follow a few additional directions.

First and foremost, decide where the bed must go. If your odd space has a nook, alcove, or obvious space where the bed should go, definitely put it there. The space was probably designed to accommodate a bed in that area, so there's no point in out-designing the developer.

However, if you're not that so lucky, your next step is to divide your studio into two or three spaces. Allocate the smallest space, no matter what, to your dining area (if you choose to have one). The largest space should accommodate the largest piece of furniture, your bed; but, but that doesn't mean that the space needs to be a bona fide "bedroom." You'll want a nightstand/side table, perhaps a floor lamp, and most importantly, walkable space between the bed and the rest of the studio. It's very important that your bed doesn't interrupt free-flowing space (i.e., place the bed length-wise against the wall day-bed style).

Generally, you want to dedicate the space by the window to your socializing areas (living and/or dining). How come? Think about it: the most desirable tables at a restaurant are by the window; and where else are you expected to read a book or do work? By the natural light source, of course. The sleeping area should be dedicated to just that: sleeping. No need for direct natural light there. Exploit your view in the places where you'll spend most of your time.

Now, sometimes that's unavoidable (like the Rectangle example above), but you can easily hide your bed with a narrow horizontal bookshelf/room divider up to the mattress level (so as not to block any natural light). If you're self-conscious about the exposed pillows/bedding, use tall décor items on top of the bookshelf to natural divide the space (like 24"-high lanterns, tall candle holders, lamps, vases of varying heights, photo frames, books, or even your television).

Tip: light fixtures from the ceiling could be your clue to where to put your dining/living area. If the light fixture is right in the middle of the room, no worries – you can have an electrician move it to where you want the socializing area.

At the end of the day, if you come down to having to choose between a living or dining area, choose the dining area. It's the easiest way to accommodate up to four people comfortably, it takes up less space than a couch and coffee table, and it doubles as a functional work space. However, if you just love having friends over to watch the Bachelor and you must have a couch/coffee table, then make sure your coffee table can adjust its height (check out my Furnishing page for some great pieces) so you don't have to eat with your plate in your hand all the time. Add a couple of matching accent chairs to mimic the trendy banquette/settee dining arrangement, and now you can have the best of both worlds!

Odd Shape Inspiration: Logan Circle studio
354 square feet
Designed by Ellie Yehl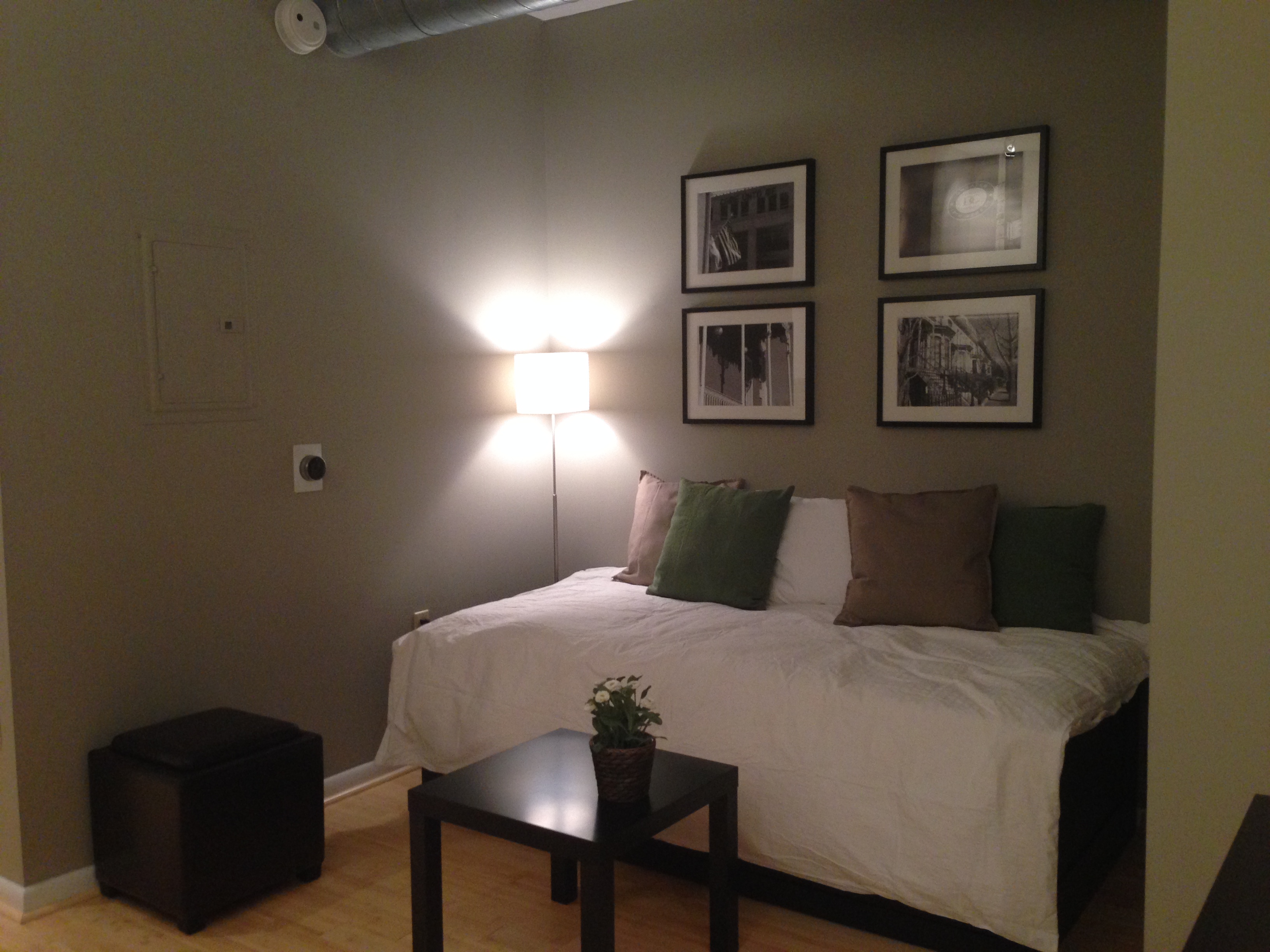 The jut on the left side of the floorplan was designed for a bed space. This single trundle bed extends for company, but on a normal day, acts as a daybed. A small coffee table divides the space from the walkway to the dining area, and a 24″x24″ ottoman dually acts as seating and functional storage.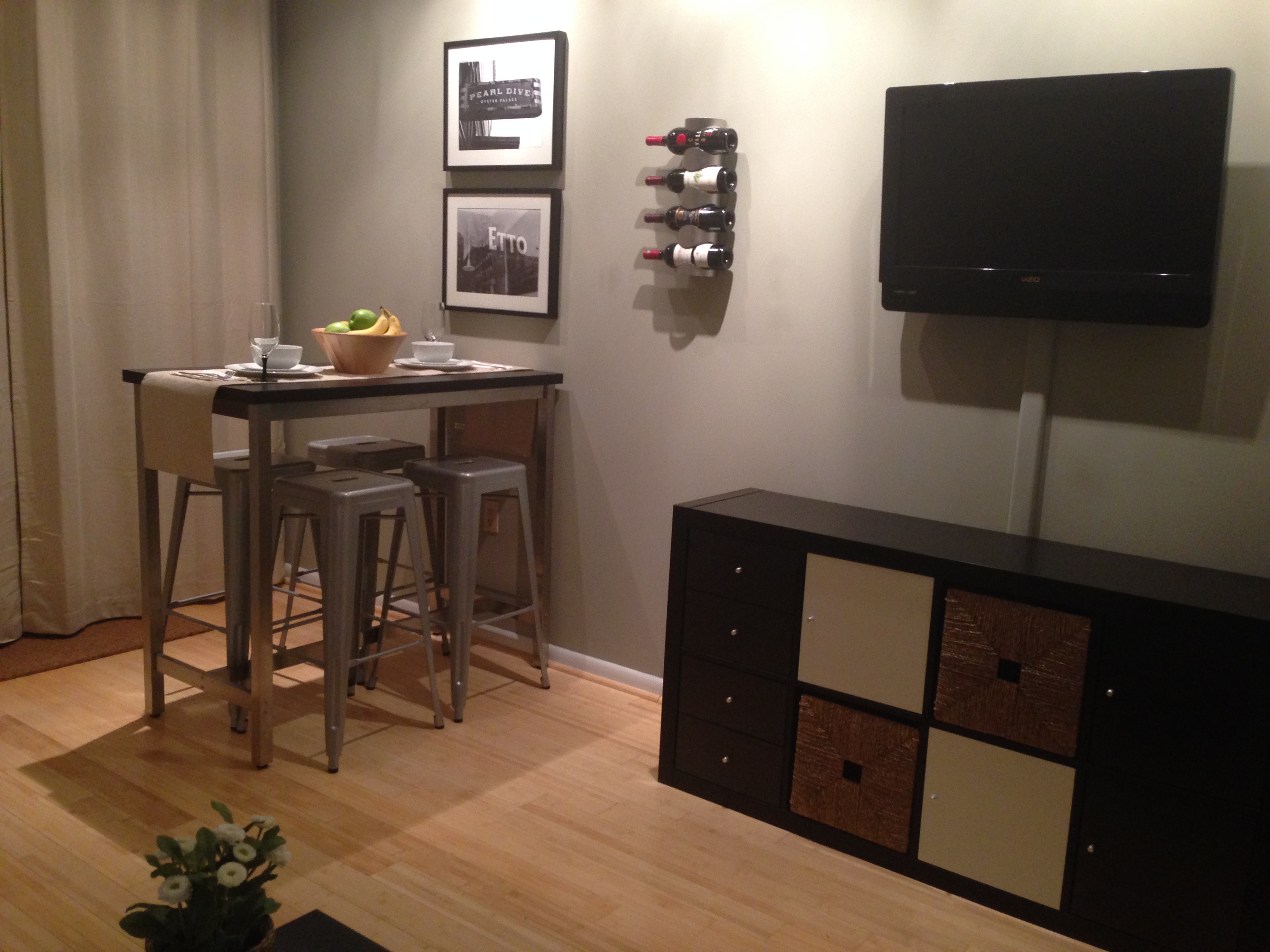 Across from the coffee table is an unobstructed walkway and functional storage/media center. The dining area is positioned adjacent to the window so that company can enjoy the feeling of more space and natural light.
Micro-units (under 300 square feet)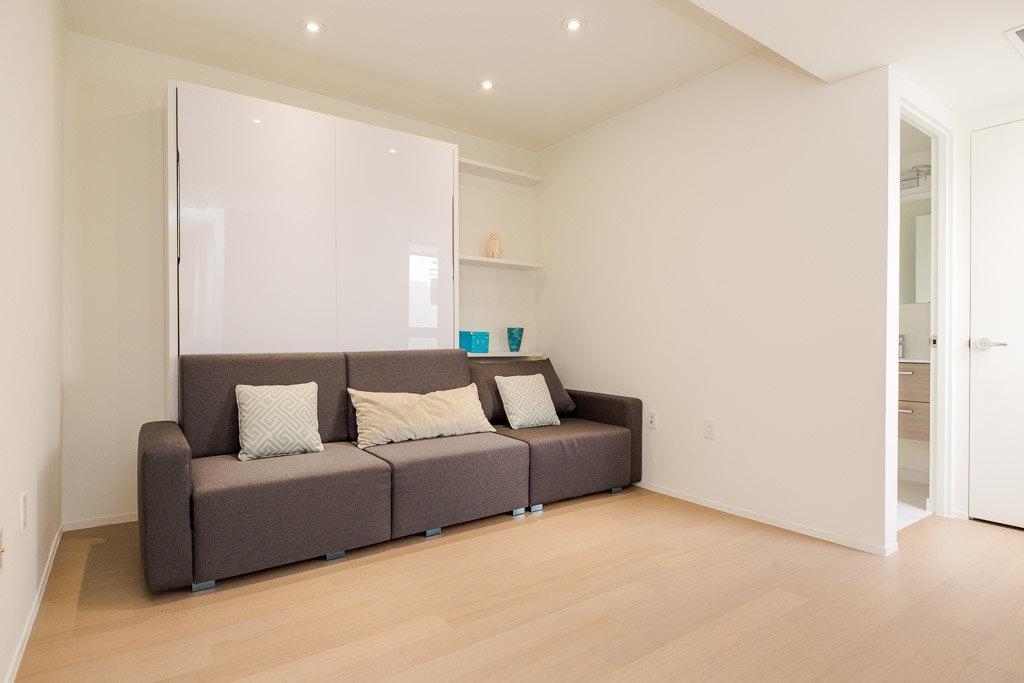 Nothing says "the city is my home" more than a micro-unit. For people who get their breakfast and coffee on the go, work at an office, and then finish the day at happy hour and dinner, sometimes home is just where they sleep. Having lots of space and stuff doesn't fulfill everyone, and more and more young people are accepting that they just need the bare necessities in a condo when they have an entire city outside their front door.

Since micro-units have such limited space, your best layout options are going to have to actually work around your furniture instead of your space. How is that done? One word: convertibles.

A few years ago, I came up with a mantra specifically for microunits: Don't fit your life into this space; start a new one in it. Translation: none of your furniture or stuff is going to fit in here, so just get rid of it and start over. "Convertible" furniture is the best way to maximize the space you have and still make your little urban oasis just that – a comfortable escape from the busy city.

Your first step is to lose the bed (unless it's a single, max full) and spring for a loft bed (yay college!) or the pricier (but most concealing) option, the murphy bed. Murphy beds have come a long way from the 1970s model in your aunt's guestroom. Nowadays, you can custom-build your own murphy bed so that it adds extra storage, or even folds upward to reveal a cleverly-concealed sofa or desk space. Either way, by removing the bed from the coveted floor space, you make room for storage, dining, a desk, or just comfortable, open space.

So, how much will a murphy bed set you back? It could be a lot: between $2,000-$3,000, which includes the construction, delivery, installation, taxes, and the mattress. Many murphy bed buyers, however, do see a return on their investment: by including the cost of the murphy bed into the future rent or resale of the condo, you'll find that many tenants/buyers are willing to pay for it in the unit.

As for dining/living areas, you just have to accept that you're probably not going to be entertaining much in your micro-unit. At a minimum, you'll need a table and 2 chairs/stools, so opt for a high-top table with chairs or stools that they can compactly slide underneath. Or, if you're honest with yourself that you're always just going to eat in front of the TV, spring for a small loveseat and a convertible coffee table (check my Furnishing page) so you can lounge and dine in comfort.
Micro-unit Inspiration: Adams Morgan studio at Moda 17
290 square feet
Imagine courtesy of Adams Investment Group.