Furnishing
So, maybe you already found your perfect studio. The next question is, how are you going to furnish it?

I see so many studios that look just like a storage unit – a bed here, a dresser there, junk strewn about. Just because a studio is the cheapest property in the city doesn't mean it has to look like it. I've not only seen hundreds of beautifully decorated studios, I have helped furnish tons of them through my now-famous Pinterest page. I know exactly the right pieces that will make furnishing your studio a breeze.

Already have furniture? That's fine. Just like with every new place you live in, there will be pieces that stay forever, some that you'll want to replace, and brand-new pieces that will finish the space.
True story: when I bought my first studio, I didn't buy any new furniture; everything was the same tired old stuff from college, but I made it work. As soon as I decided to rent out my furnished unit, I spent thousands of dollars on decorators and new furniture for my tenants, and you know what? The place looked amazing and I regretted never having had the time to enjoy it.

Now, you don't have to spend thousands of dollars to make your place look like it's been professionally decorated. Take some of these furniture suggestions and check out my Décor page to give your studio that polished, professionally designed look that will leave all of your friends speechless.

Hallway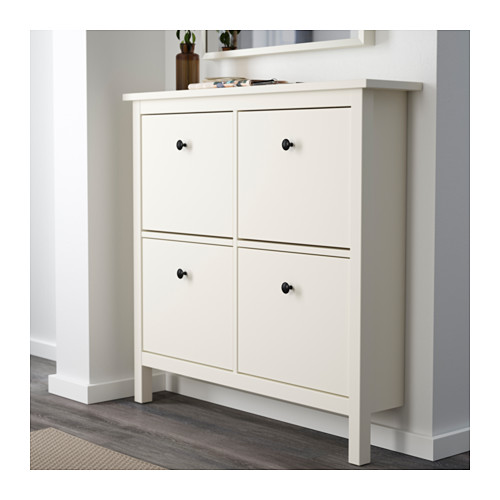 If there's one thing that studios lack, it's storage space. Even if you have a small coat closet by the front door, it's going to get stuffed quickly, and with more than just coats and shoes. For this reason, it's essential to have this shoe cabinet from Ikea; not only does it hold up to 12 pairs of shoes/winter accessories/pet stuff, it's also narrow and takes little hallway space. The added bonus is that it also serves as a welcoming console for you to put your keys and mail. Dress it up with a large mirror on the wall, a small plant, and a candle/incense burner or tiny lamp.

If there's no coat closet at all, you only need about 2-3 feet of wall space for a coat hook/drop zone area. Wayfair sells all kinds of hall trees and hooks with floating wall storage, which is an intelligent use of normally ignored space.

Living Room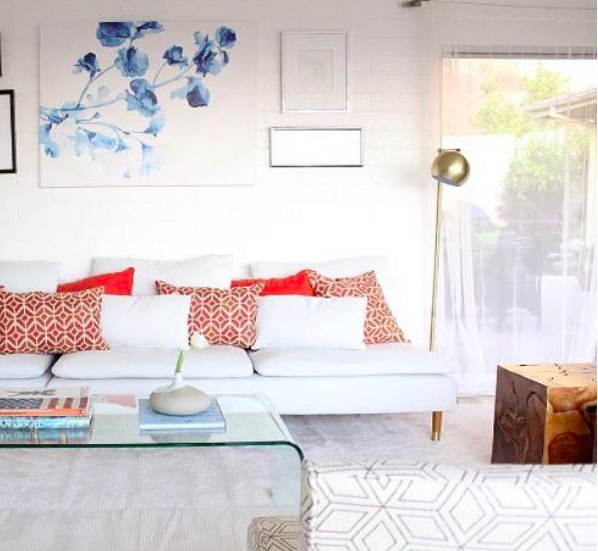 My favorite loveseats/sofas/chairs and coffee tables are those that stand on legs instead of sit entirely on the floor; this creates a little more airflow and helps the space feel less blocky. West Elm and Crate & Barrel specialize in small-space furniture, but they certainly come with a hefty price tag. Here's a tip: buy your seating at Ikea and switch out the standard, cheap legs for whatever legs you want at the Prettypegs website. Throw in a couple of accent pillows, a light blanket, and boom – it looks like you spent serious cash on your couch.

My favorite coffee tables are the ones that double as storage options, particularly the ones with a lift-top. If you know you won't have too much clutter, perhaps opt for a glass-top or completely clear coffee table for transparency, or go for a set of nesting tables. Image courtesy of Monaca Brown Designs Co.

Dining Room

Since I'm a big believer in the dining room as the main socializing space, I'm especially partial to maximizing this space over others. For this reason, my favorite suggested tables will seat four instead of two; bistro tables (seating two), while very space-efficient (and admittedly kind of darling), are barely large enough to hold two salad plates, and you can forget about extra space for a centerpiece/candle/salt and pepper shaker. The only bistro table I recommend is the Ikea Bjursta table that can expand to comfortably seat four. If it's just you most of the time, the two-seater set-up is perfect.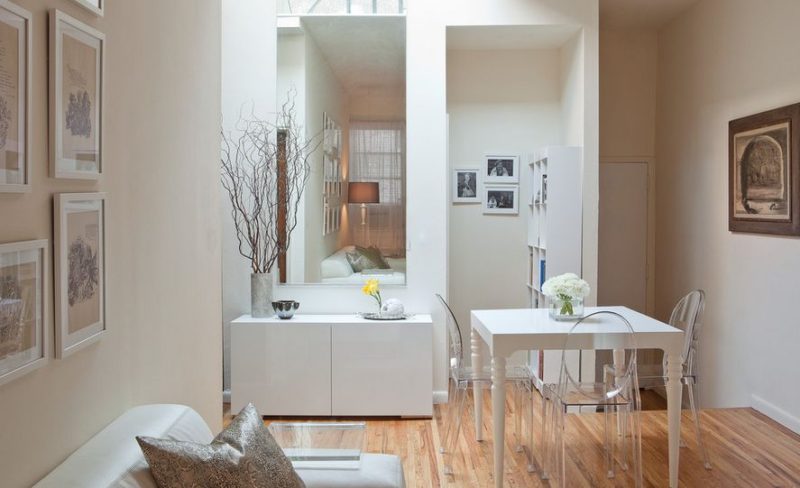 There are literally thousands of tables that seat four all over the internet, so I would just go for the table that suits you and your personality best. However, if you want to go for a studio- and budget-approved table that will shock you with its chicness, the $39 Tarendo table from Ikea is ideal in price and style versatility. Dress it up with some industrial dining chairs (you can get some great, inexpensive sets, like the Tabouret line, at Overstock.com) for a modern look, or some colorful, armless chairs for a mid-century vibe. You also can't go wrong with a set of polycarbonate "ghost" chairs for an elegant, contemporary feel. I especially love ghost chairs because they truly offer the illusion of space; not only that, they're easy to clean and make excellent accent chairs in the living room. Image courtesy of Homedit.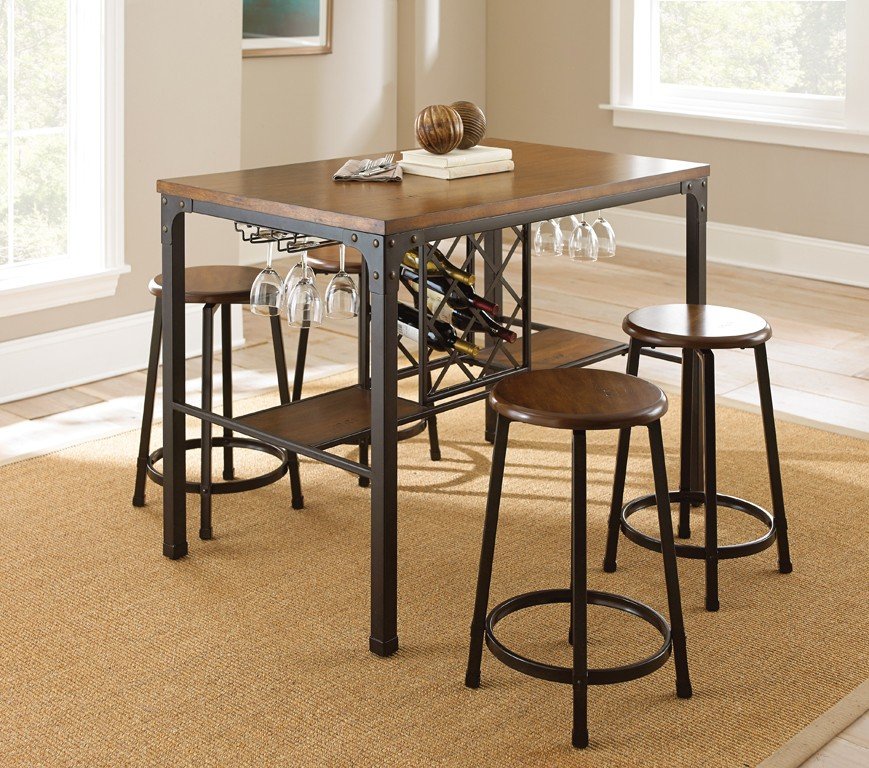 If your space is micro-unit small, you can get a lot of good use out of high-top bar tables and some backless stools that slide underneath (Wayfair sells some great sets, many for under $300). It's stupidly easy to replicate the high-tops you see at your favorite bar: get a table with steel legs and a wood-grain top, and match it with some gunmetal or adjustable-height industrial stools (my favorites are from West Elm). Just attach a sconce with an Edison bulb to the wall, and you too can charge your friends $14 for a Moscow Mule.

Room Divider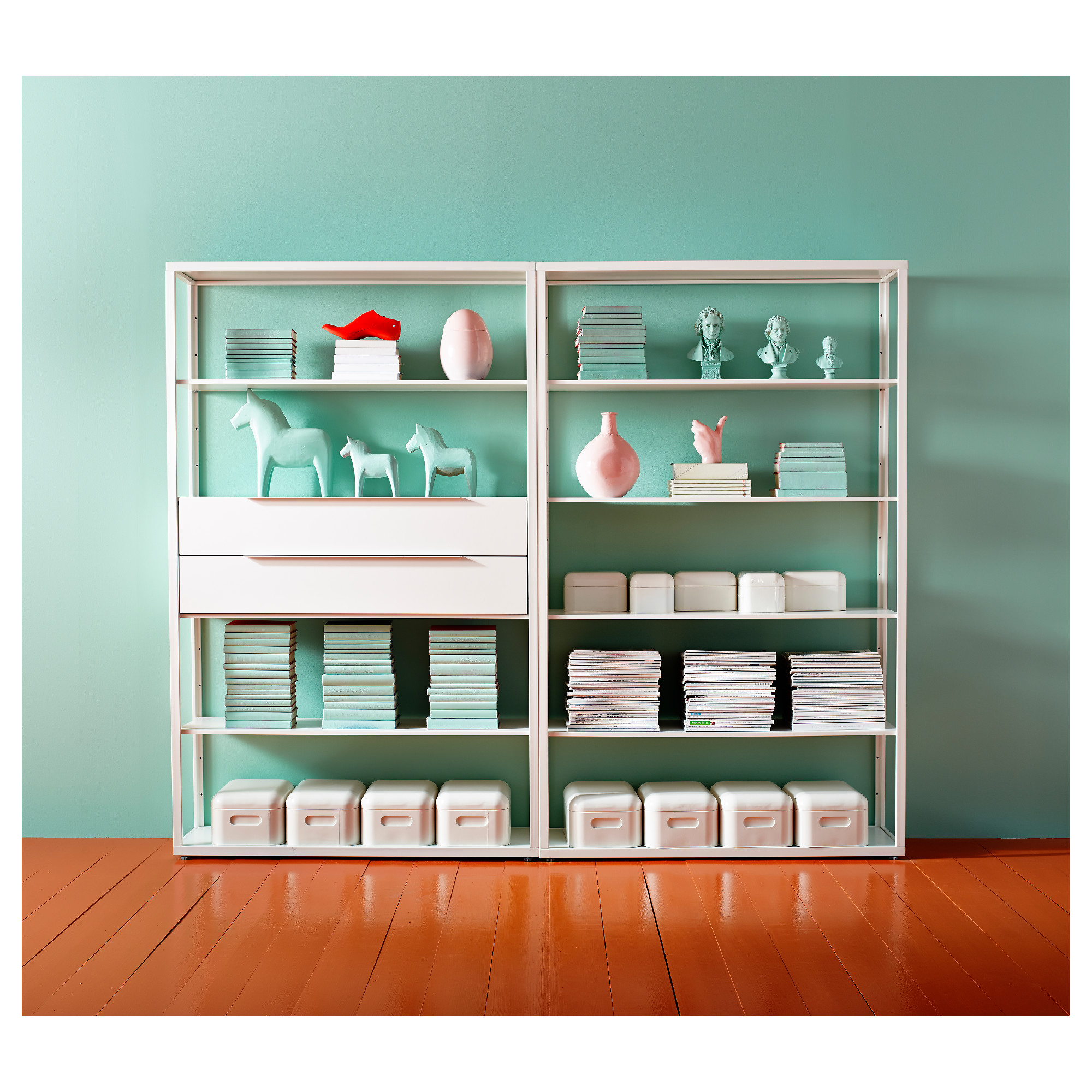 There is only one room divider in the world that gets my seal of approval – the Fjalkinge shelf unit from Ikea. It's ingenious. Not only does it have tons of storage, the drawers completely obscure the bed/mattress,

and

it lets tons of light through. Since it partially serves to hold your personal items and décor, this room divider will accommodate every style.

However, if you want a quicker solution with much less assembly, you can stack a couple of Kallax shelf units together for a similar (but bulkier) separation.

Bedroom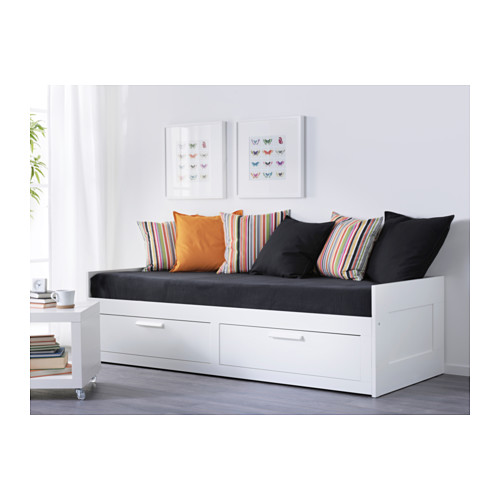 You've read on and on about fashioning a daybed. If you already have your bed/mattress and can't part with it, then check out my Décor page on how complete your daybed look with pillows. If you're ready to make the most out of your space, whether you're single, with your partner, or constantly expecting guests, there is one Ikea daybed that beats them all: the Brimnes daybed frame with two drawers. At first glance, it is just a raised, twin bed with storage drawers. However, the bed can be pulled out to expand to a king size. Ikea also sells comfortable single, stackable mattresses that make the transition from twin to king very easy.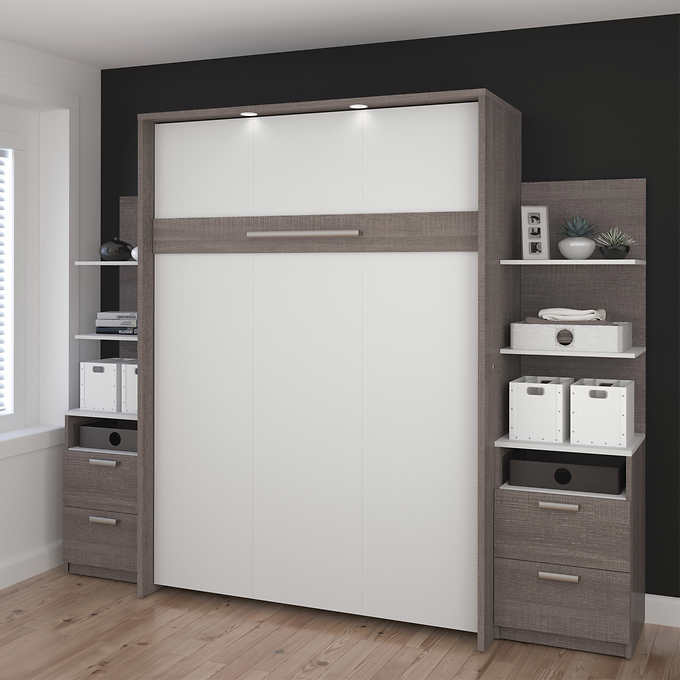 Alternatively, if you're ready to go all-in studio lifestyle, you can find murphy beds ranging from basic (read: least expensive) to elaborate (with storage or sofa combos). For starters, I suggest seeing what's available on Craigslist.com; just replace the mattress. Next, check out your options on Wayfair.com, AllModern.com, and even Costco (Image courtesy of Costco). Keep in mind, since the bed will be anchored into the wall, this will count as a "fixture" that conveys with the listing if you ever sell your unit, so consider the murphy bed as more than just a piece of furniture, but a value-adding feature to your studio.